UMass Football Family, Friends, and Supporters:
---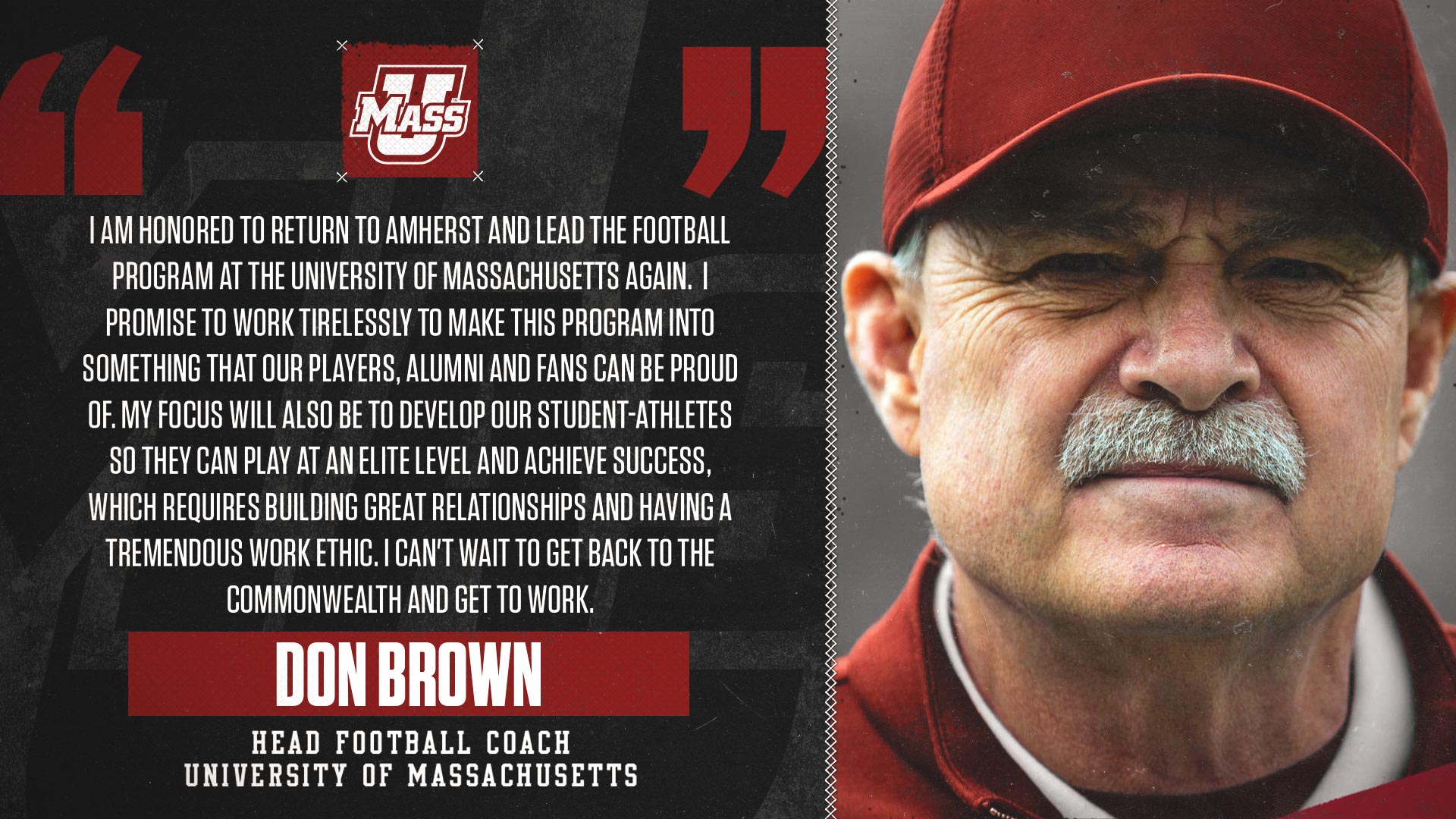 Defining Moments
---
Received $1,000,000 gift from The Colton Family to create the first fully funded endowment scholarship to support UMass Football

Surpass $1M mark in Football Excellence Fund in support of Don Brown hire

Major Gift from Neal Brown to support UMass Football

Closed previous fiscal year with Gridiron Club records of $291,812 dollars raised from 471 donors (2020-21 academic year)

Upgrades to Sports Performance Suite (Nutrition Center, installation of turf training area and addition of new equipment)

Major gift from All States Materials Groups towards the Football Performance Center

Bob and Marianne Foote donate Major gift to fund the Bob and Marianne Academic Success Center in Boyden

Paul and David Manganaro donate Major gift to support a new videoboard at McGuirk Alumni Stadium

Marty Jacobson donates $5.58 million toward air support structure (bubble) project; UMass Football Performance Center is named in his honor

Major gift Gift from Frank and Peter DiTommaso towards the Football Performance Center

Major gift from Jim and Ellen Hunt towards the Football Performance Center

Major gift from Bill Welch towards the Football Performance Center

Groundbreaking of Football Performance Center

Marty and Richard Jacobson donate $2.5 million to name UMass Football Press and Skybox Complex at McGuirk Alumni Stadium

First win as an FBS program

Major gift from Bob and Marianne Foote towards the Football Performance Center
Vision
The UMass Gridiron Club is committed to elevating the football program of our state's Flagship University.
The Gridiron Club will achieve this vision by providing resources to positively impact our student athletes' overall success and assisting the coaching staff with team needs. Private contributions from alumni, family and friends support endeavors to directly impact the student-athlete experience including athlete nutrition, sports performance, technology, academic achievement and post-graduation preparation.
Throughout the year, the UMass Gridiron Club hosts events to build connection among members and with the football program. Events include a signature golf tournament, pre-game tailgates at all home and selected away games, and signing day events. Members are encouraged to share their expertise at Gridiron sponsored mentoring and career development workshops designed to strengthen student athletes' connections to the community and UMass alumni network.
Board of Directors
---
Tom Mullen '74 President
Bill DeFlavio '72 Immediate Past President
Kole Ayi '01
Jason Bermant '98
Cliff Bolden '00
Michael Chuma '82
Brandon Flanagan '11
Matt Goldstein '05
Demo Drougas '85
Kristin Kanter '07
Logan Laurent '18
Paul Manganaro '87
Khari Mitchell '99
Courtney Robinson '16
Farrah Segaloff '08
Darryl Thomas '97
David Biancamano Ex Officio
Gridiron Club Member Benefits
---
The Gridiron Club needs you in the game. Gifts, no matter the size, make a difference and we need 100% of the UMass Football Family on board.
Gridiron Club Member Benefits Chart

Hall of Fame

$10,000

Ring of Honor

$5,000

Champion

$3,500

All-American

$1,500

All-Conference

$500

Captain

$250

Minutemen

$100

In-season messages from UMass Football, priority points, MMC membership and special event invitations

Gridiron Club Parking Lot (home game parking)

3 passes
2 passes
1 passes
1 passes
1 pass
1 pass

Gridiron Tailgate Access (pre-game hospitality event)

10 passes
8 passes
4 passes
2 passes
2 passes
2 passes

Jim and Ellen Hunt Hospitality Room Access (in-game hospitality event)

10 passes
8 passes
4 passes
2 passes
One Selected Game

Pregame Field Access

Dinner with Coach Brown, on field recognition

Accompany team on away game trip
Join the Gridiron Club today!
By making a contribution to the UMass Athletics by way of the UMass Gridiron Club, you make an immediate impact on the quality of the student-athlete experience. Your contribution(s) to the UMass Athletics Gridiron Club immediately makes you a donor (support the University financially). Once an individual or entity becomes a donor that identity is retained indefinitely, even if involvement with the athletics program ceases.
The University of Massachusetts is committed to operating our athletics program in a manner consistent with the letter and spirit of the NCAA rules. The University will not compromise the integrity of the institution when it comes to those NCAA rules. Everyone associated with our department is responsible for rules compliance. Coaches, administration, donors as well as each student-athlete and their family play an integral role in maintaining our institutional integrity.
Questions?
For more information about becoming a Gridiron Club member, please contact Senior Associate Athletic Director Dave Biancamano at dbiancamano@umass.edu. Thank you for supporting UMass Football!
To become more involved with UMass Football and the Gridiron Club, please fill out this form.
PLEASE NOTE: Required Fields have an asterisk *
Join the Minutemen Club today!
Support Now
Do you have a question?
Contact Us