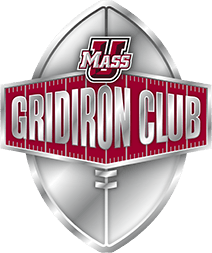 UMass Football Family, Friends and Supporters:
---
The arrival of fall is inevitably noticeable by the tangible changes of nature as well as the wonderful season of thankfulness. We are incredibly thankful for the young men that represent Massachusetts football in a first class manner consistently in the classroom, community and in competition. We celebrate and commend our players for their toughness, desire, and willingness to get better.
Likewise, we are sincerely thankful for your continued support in helping secure opportunities for holistic growth and success. Your contribution by way of financial support to the UMass Gridiron Club ensures that our program has every opportunity for immediate and long-term sustainability. Please consider joining the UMass Gridiron Club or renewing your annual support by making your online contribution today by clicking here.
Thank you for your contribution to our success as we strive for a strong finish to the 2018 season.
Go UMass!
Mark Whipple
Head Football Coach
Mission Statement
The mission of the UMass Football Gridiron Club is to strengthen the University's football program by encouraging private and volunteer leadership from Minutemen across the country. The UMass Gridiron Club shall support initiatives as requested by the Head Football Coach and the University of Massachusetts Athletic Department.
Objectives
As the official booster club for the University of Massachusetts Football program, the UMass Gridiron Club seeks to Engage, Educate, and Empower young men to achieve optimal success. The UMass Gridiron Club envisions being the premier athletic booster club locally, state-wide, and regionally. Being a member of this club provides opportunities to collaborate with fellow loyal UMass Football friends and fans in accomplishing the mission and bringing the vision of the club to pass. UMass Gridiron Club members provide financial support as requested to help the Minutemen compete at the FBS level, provide leadership development programming for the student-athletes, and sponsor functions for club members. Funds raised by the UMass Football Gridiron Club go directly to support the UMass Football program. Funding and functions are consistent with the applicable NCAA rules governing booster clubs and their supporters.
Board of Directors
---
Paul Manganaro '87 President
---
Tom Mullen '74 President-Elect/VP
Chairman, Fundraising
---
Anne Manning '87 Secretary
Chairwoman, Alumni Relations & Communications
---
Cliff Bolden '00 Alumni Relations & Communications
---
Bill DeFlavio '72 Chairman, Events
---
Frank DiTommaso '81 Chairman, Mentoring & Career Development
---
Kristin Kanter '07 Chairman, Membership
---
Dr. L.A. Love '04, '06, '07 Ex Officio
2018-19 Gridiron Club
Member Benefits
---
The Gridiron Club needs you in the game. Gifts, no matter the size, make a difference and we need 100% of the UMass Football Family on board.
2018-19 Gridiron Club Member Benefits Chart

Championship

$10,000

Heisman

$5,000

MVP

$2,500

Touchdown

$1,500

Red Zone

$500

First Down

$250

Kickoff

$100

Support the education of UMass student-athletes, priority points

In-season video messages from Coach Whipple

Gridiron Club Gift

(Different Gift at Each Level)

Opportunity to purchase away game tickets

Invite to private practice, Football Performance Center Hunt Hospitality Room passes

(Different Number of Passes at Each Level)
10
8
4
2

Complimentary entry to Gridiron Golf Tournament

Dinner with Coach Whipple

On field in-game recognition
The University of Massachusetts is committed to building and sustaining a football program that exemplifies competitive excellence both on and off the field while competing at the Division I FBS level that alumni, current and future minutemen will be proud off. The difference between a good program and a great program is the support of its alumni and friends. We need your help to ensure greatness for our beloved UMass Football program.
By making a contribution to the UMass Athletics by way of the UMass Gridiron Club, you can make an immediate impact by assisting to improve the quality of the student-athlete experience that UMass Athletes provides. Your contribution(s) to UMass Athletics Gridiron Club immediately makes you a booster. Once an individual or entity becomes a booster that identity is retained indefinitely, even if involvement with the athletics program ceases.
The University of Massachusetts is committed to operating our athletics program in a manner consistent with the letter and spirit of the NCAA rules. The University will not compromise the integrity of the institution when it comes to rules compliance. Everyone associated with our department is responsible for rules compliance. Coaches, Administration, Boosters as well as Student-Athletes and their family play an integral role in maintaining our institutional integrity.
To become more involved with UMass Football and the Gridiron Club, please fill out this form.
Join the Minutemen Club today!
Support Now
Do you have a question?
Contact Us