UMass Hockey
Excellence Campaign
---
Funded entirely through philanthropy, this $2 million project is a complete redesign and layout of the current locker room space. Included in the renovation are custom wood lockers, player lounge, nutrition center, dry locker room, recovery area and state-of-the-art technology with UMass Hockey branding throughout.
"Our locker room renovation is the last phase of the complete overhaul of all UMass Hockey facilities. The locker room renovation will not only be the final step but also the most impressive! The final product will provide our players with first-class amenities and will quickly become one of the premium locker rooms in Division I Hockey. The financial support for this project has been outstanding and I want to thank all of our donors for their support and generosity. I'm very excited about this project in many ways but mostly because our players deserve it. They've earned it on the ice, in the classroom, and in the community. They have done everything in a first-class manner and deserve first-class facilities."
— Greg Carvel, Head Coach
"Our student-athletes, coaches and staff have made a considerable investment over the last several years to make UMass a household name in college hockey. In turn, our loyal fans and donors have done the same by investing in the student-athlete experience and our future. It has allowed us to provide our program with the top amenities, and I am incredibly grateful for the financial support and commitment that so many have already shown towards this renovation. We strongly believe that when this project is completed, Massachusetts Hockey will own one of the most coveted college hockey facilities in the nation. It will position us well to attract top recruits to our university and provide our players with a home to develop and enjoy a first-class student-athlete experience."
— Ryan Bamford, Director of Athletics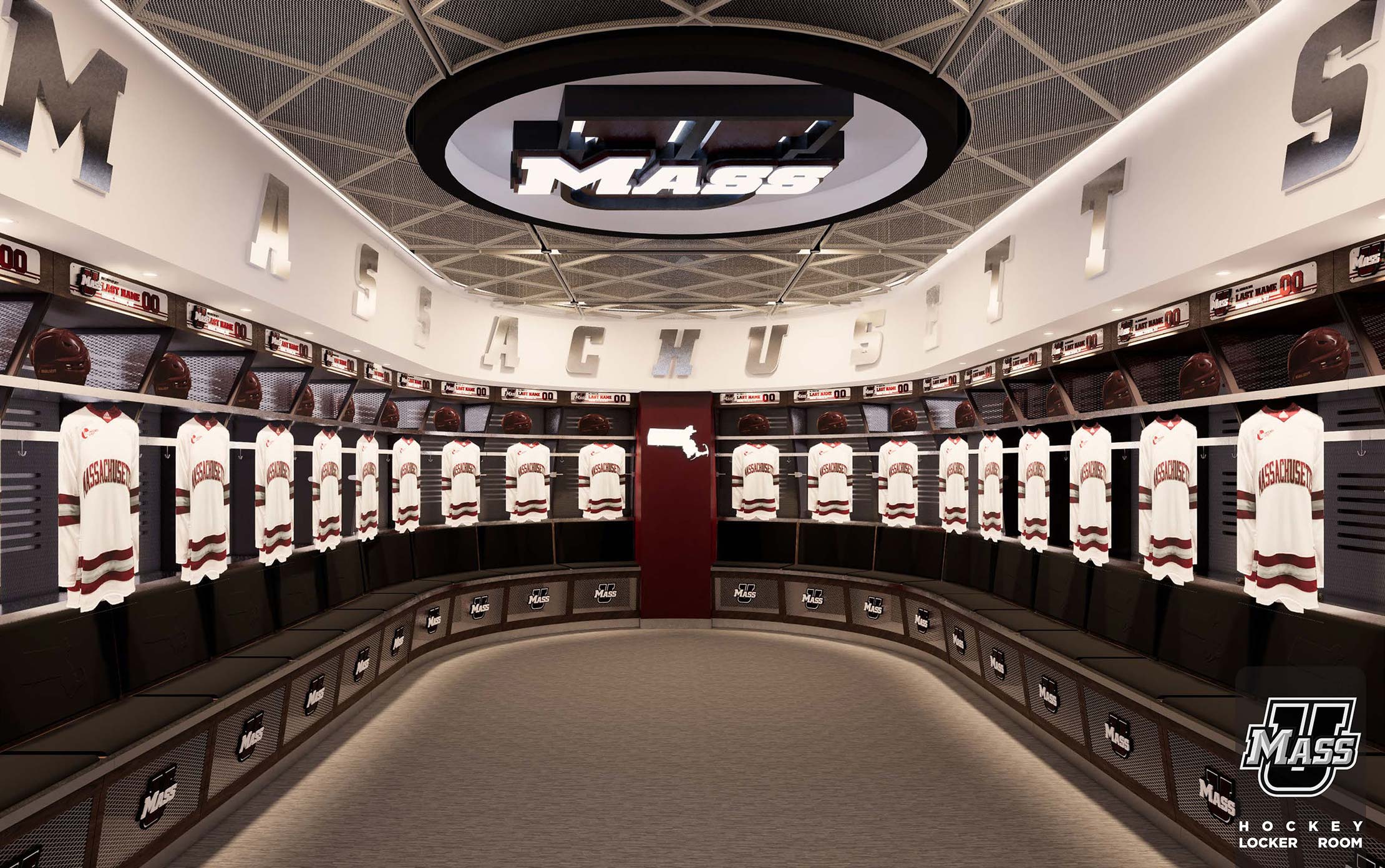 Locker Room:
$2,000,000
Locker Room Renovation:
Complete redesign and new layout
Player lockers
Dry lockers
Team lounge and academic area
Nutrition station
Equipment Room
Branding
Sports Medicine:
$175,000
Enhancements to the wet room, including the installation of two Cold/ Warm Hydrotherapy tubs, creating an impactful recovery experience for our student-athletes. New treatment tables and modality carts will be added as part of an overall renovation to the training room to create a more functional space for treatment.
Updated branding to the link between the locker room and practice rink. This includes UMass logos, wall wrap photos, history of the program and player accolades. Additional branding will be added to the film room and tunnel to the game ice.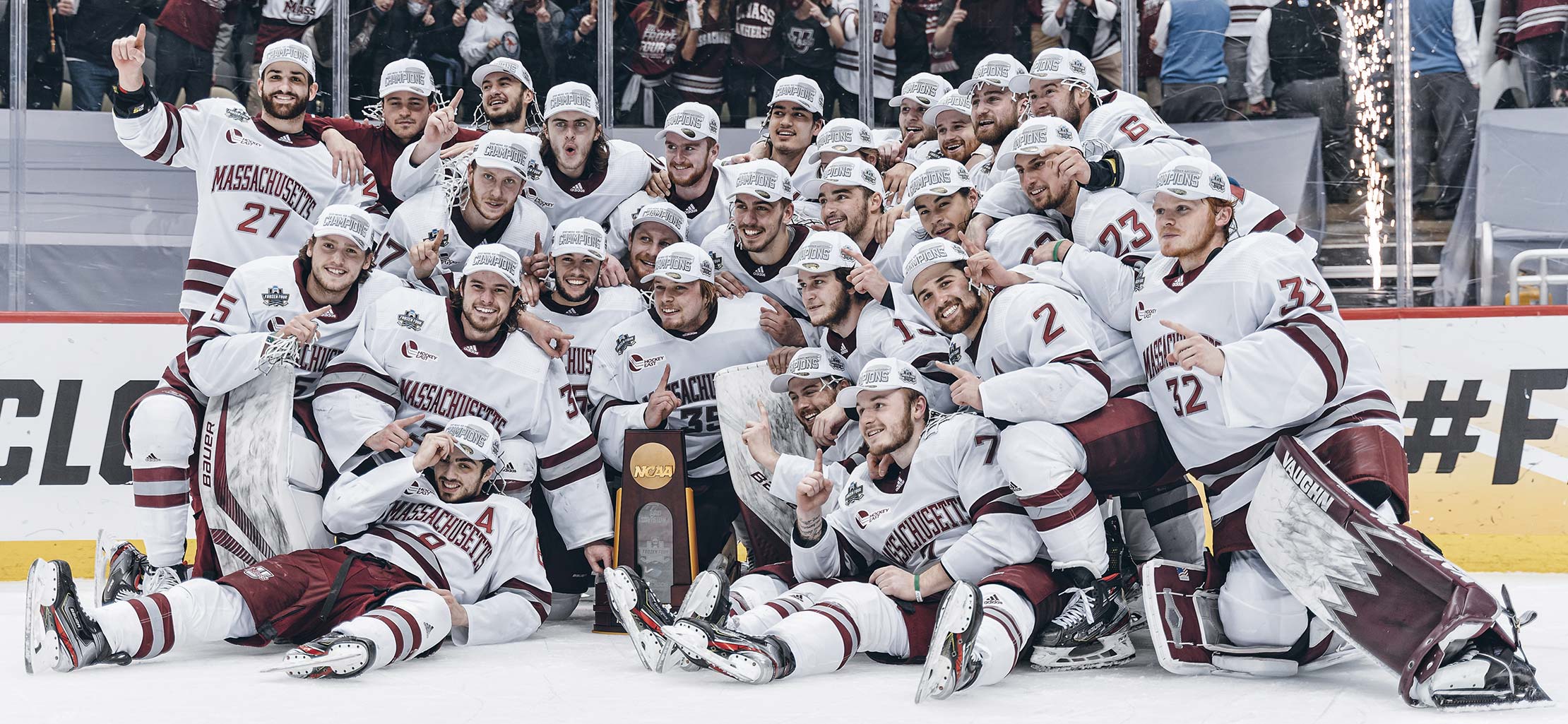 AVAILABLE NAMING OPPORTUNITIES
---
LOCKER ROOM
COMMITTED
$250,000
WEIGHT ROOM
COMMITTED
$150,000
TRAINING ROOM
COMMITTED
$100,000
HOCKEY OFFICE SUITE
$100,000
DRY LOCKER ROOM
COMMITTED
$50,000
HOME BENCH
COMMITTED
$25,000
NUTRITION ROOM
COMMITTED
$25,000
PLAYERS LOUNGE
COMMITTED
$25,000
HEAD COACH LOCKER
COMMITTED
$20,000
DIRECTOR OF HOCKEY
OPERATIONS OFFICE
COMMITTED
$15,000
ASSISTANT COACHES LOCKERS
COMMITTED
$10,000
PENALTY BOX
COMMITTED
$10,000
PLAYERS LOCKERS
COMMITTED
$5,000
DRY LOCKERS
(25 AVAILABLE)
$2,500
---
For more information please contact Ryan Boudway at rboudway@umass.edu or 574-340-2987
Join the Minutemen Club today!
Support Now
Do you have a question?
Contact Us